If you've been displaced from your home and need to temporarily relocate, SoLo Suites offers a smooth, hassle-free experience. Unlike most hotels, our suites have all the amenities of home, and unlike most short-term rentals, we can offer a flexible length of stay.
Benefits for the Insured
Ease & Convenience
Your claims adjuster will deal directly with SoLo Suites, so all you need to do is show up and get comfortable.
Amenities of Home
Maintain a sense of day-to-day life—all of our suites have a full kitchen and in-suite laundry, just like home.
Reliable Support
You get all the comforts of home with the benefits of a hotel. We're always available; just give us a call.
Benefits for Claims Adjusters
Streamlined Service
Set up a reservation directly—simply give us a call or fill out the form on our For Adjusters page.
Convenient Invoicing
We send invoices once a month by email. If you ever have questions, we are a phone call or email away.
Flexibility
If the insured needs to extend their stay for any reason, simply contact us on their behalf.
How It Works
Making insurance claims can be stressful—we want to help make this unpredictable time as clear and easy as possible. Here's how our insurance stays work.
Step 1
The insurance adjuster fills out the insurance stays form on behalf of the insured.
Step 2
We present the adjuster with a quote based on your estimated length of stay with SoLo Suites.
Step 3
The adjuster contacts the insured with the short-term rental suite options available.
Step 4
Almost there! Once we receive confirmation from the adjuster that your stay is covered, you will receive your reservation info by email, including a code to gain keyless entry to your temporary new home. If you need to extend your stay, please contact your claims adjuster.
"This place gets very near to perfect and was exactly what we needed when we needed it. We were displaced from our home while work was being done and we needed something more than a hotel room for us and our two sons. Check-out date changed twice and SoLo Suites was able to accommodate our request both times."
Bob W
Previous Slide
Next Slide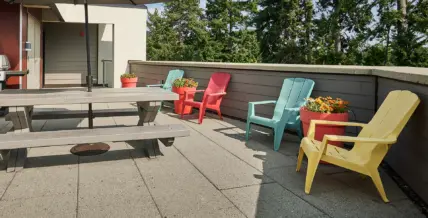 The SoLo Suites Experience